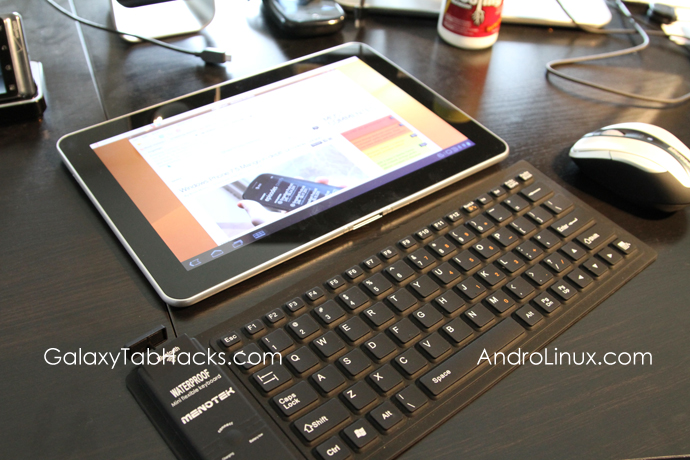 Video demo of Ubuntu on Galaxy Tab 10.1:
UPDATE: This is for older Honeycomb, please do not try on ICS! (Will have an updated version soon!)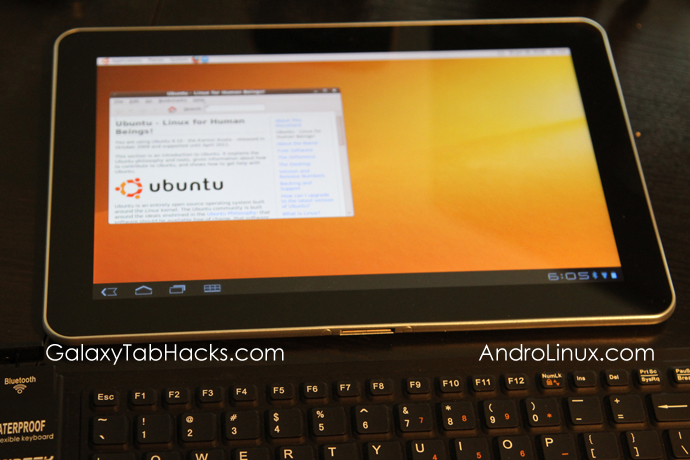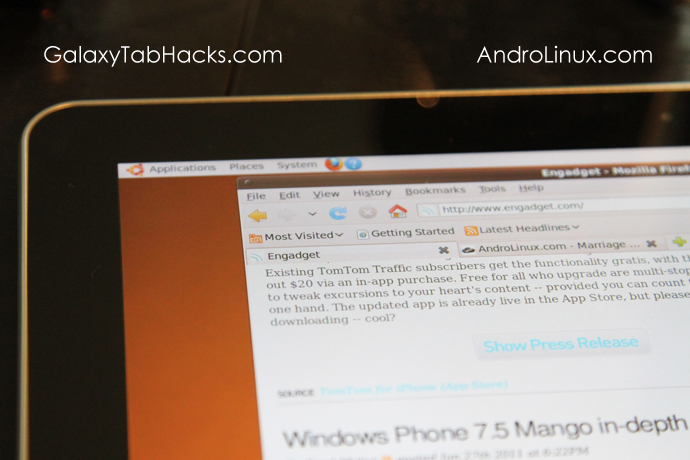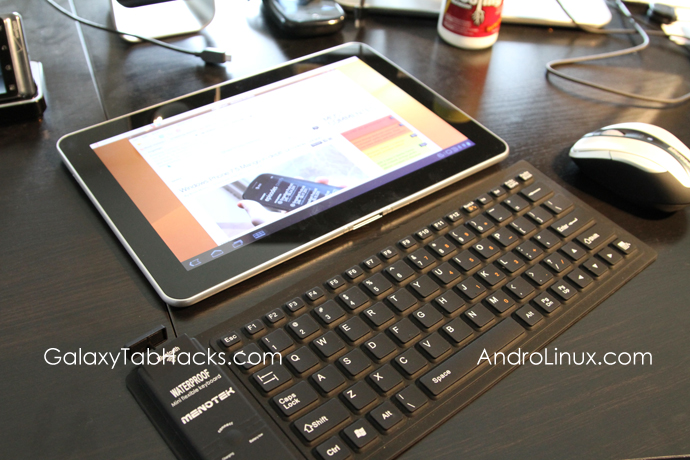 For those of you Ubuntu lovers out there, if you did pick up a Galaxy Tab 10.1, did you know you can run a Ubuntu OS running side by side along with your Android tablet?
Well, this has been done many times on other Android smartphones before but certainly the Samsung Galaxy Tab 10.1 is a perfect device to put Ubuntu, let me introduce you to "Tabuntu".
What we are doing here isn't replacing Android OS completely but Ubuntu runs in the background "chrooted" or like a virtual machine.
Why would you want to run Ubuntu on Galaxy Tab 10.1?
Although Android is very similar to Linux (and is based off Linux), you cannot run native Linux programs on Android. By introducing Ubuntu to Android, you can run existing Ubuntu applications on your Galaxy Tab 10.1. For most, this isn't a big deal but for a little community called Ubuntu, this could be huge.
Besides that, having Ubuntu run on Android could be very useful for educational purposes like for college, so you can have Android and Ubuntu running both at the same time.
And lastly, "why not"?
Step 1 – How to Install Ubuntu on Galaxy Tab 10.1!
Anyways, here's how to install Ubuntu on your Galaxy Tab 10.1 or any other rooted Android tablet device.
First, you will need your Galaxy Tab 10.1 rooted, you can follow our step-by-step instructions on how to root your Galaxy Tab 10.1 before we begin.
Step 2 – Download Files you will need
Download ubuntu.zip below and unzip it, you should get a folder called "ubuntu".

Download ubuntu.zip

If you don't have Android SDK, just download this adb.zip, unzip it, and put it in the root folder of your computer. E.g. Windows, put it in c:\ so you will have c:\adb directory. For other operating systems, you can get ADB by downloading the Android SDK for your appropriate operating system.
And you need to download busybox files:
Download busybox file
Step 3 – How to Install Busybox on Galaxy Tab 10.1!
If you've already installed Busybox, you can skip this step.
Otherwise, you need to install Busybox on your Galaxy Tab 10.1.  Copy over the su-busybox-misc-sam-tab-10.1-061611.zip to the root folder of your Tab 10.1, run Clockwork Recovery, then flash the zip file.
Here's a video tutorial you can follow on how to install Busybox on your Galaxy Tab 10.1:
Step 4 – Copy Ubuntu folder into Tab 10.1!
You need to copy over the ubuntu folder you unzipped earlier over to root folder of your Galaxy Tab 10.1.
Step 5 – ADB shell and Run some scripts!
Open up a command prompt/shell by typing "cmd" under Start->Search for Windows.   For Linux/Mac, open a shell.
Go into the adb directory (or your SDK directory) by typing:
cd \adb
Then type:
adb shell
You should be now in shell of your Tab 10.1, if you don't, you didn't install the Tab 10.1 drivers correctly. (You can download Tab 10.1 drivers and install them.)
Next type:
cd /sdcard/ubuntu
Then type:
sh ubuntu.sh
Don't worry if you get errors and type:
bootubuntu
If you get a Ubuntu linux shell at this point, congratulations, your Ubuntu is now running in the background of your Android!
Step 6 – Install some Ubuntu packages and VNC Server for GUI!
Type:
apt-get update
to update all the packages.
*Optional – You can also install SSH access by typing:
apt-get install openssh-server
Next, let's setup a VNC server so we can visually access our Ubuntu Gnome desktop.
Type:
apt-get install tightvncserver
to Install tightvncserver
Then type:
export USER=root
and:
vncserver -geometry 1280×800
You can set your VNC server password here.
This starts our VNC server and we can log into it using any VNC program from a computer or from our own Tab 10.1
Step 7 – Login to your Ubuntu on your Galaxy Tab 10.1!
To login from your own Tab 10.1, download the free app "Android VNC Viewer" off market.
Set the IP address to "127.0.0.1", enter the password you set earlier, then set port to 5901.
You should be now seeing the Ubuntu desktop.  If so, congratulations!
Now, you can hook up bluetooth mouse and keyboard to make it a fully-functional Ubuntu desktop.
How to Fix the Keyboard Mapping!
When you connect a bluetooth mouse, it might be a bit off, here's how to fix it.
Type this:
cat > $HOME/.vnc/xstartup
Then copy and paste the below:
#!/bin/sh
xrdb $HOME/.Xresources
xsetroot -solid grey
#x-terminal-emulator -geometry 80×24+10+10 -ls -title "$VNCDESKTOP Desktop" &
#x-window-manager &
export XKL_XMODMAP_DISABLE=1
/etc/X11/Xsession
Then hit Ctrl+D twice and hit Enter.
Basically I added the line "export XKL_XMODMAP_DISABLE=1" before "/etc/X11/Xsession" to fix the keyboard mapping.
You can also just edit the file $HOME/.vnc/xstartup with your favorite text editor too.
*Note – You might have to reboot your device and start Ubuntu again.
Extra – How to Reboot/Restart your Ubuntu!
When you turn off your Tab 10.1 completely and reboot, you need to restart your Ubuntu if you want to use it.
Type:
adb shell
Then change directory to ubuntu:
cd /sdcard/ubuntu
Then run:
bootubuntu
Then kill instances of VNC server (just to make sure):
killall Xtightvnc
Then:
vncserver -geometry 1280×800
Make sure you use a small-case "x", sometimes when you copy and paste, it will change!
Video Tutorial on How to Install Ubuntu on Galaxy Tab 10.1
I took a video of me installing Ubuntu on my Galaxy Tab 10.1 so this might be helpful while you follow the directions:

Final Words
For now, Ubuntu's browser seems a bit laggy but still usable, I would say it's only a bit slower than Atrix's own WebTop.  In another year or so when they come out with 2Ghz+ dual-core processors, I think Ubuntu will be very usable.
Credits
Thanks to DroidBasement for the Busybox zip file.
You can check out my original guide on how to put Ubuntu on Android at AndroLinux.com too.
In the meanwhile, I am going to see if I can take out all the unneeded packages from Ubuntu and perhaps add some optimizations.  If you want to help, don't forget to leave your tips in the comments line!
Need Help? Follow/add me on Google+, Facebook, or Twitter!
GooglePlus
Facebook
Twitter
Want to stay updated on latest Galaxy Tab Hacks news?
Sign up for our Galaxy Tab Hacks Newsletter here
so you don't miss a single tip and get personal help via e-mail! First time to rooting and custom ROMs? Please see our
Galaxy Tab 10.1 FAQ FIRST!
If you like this post, please CLICK HERE to subscribe to my YouTube channel, THANKS A TON BUD, I OWE YOU ONE!
Recent Android News from HighOnAndroid.com